| Sun | Mon | Tues | Wed | Thu | Fri | Sat |
| --- | --- | --- | --- | --- | --- | --- |
| | 1 | 2 | 3 | 4 | 5 | 6 |
| 7 | 8 | 9 | 10 | 11 | 12 | 13 |
| 14 | 15 | 16 | 17 | 18 | 19 | 20 |
| 21 | 22 | 23 | 24 | 25 | 26 | 27 |
| 28 | 29 | 30 | | | | |
Recreation Facilities
The Horton Community Centre
Updated: 8 months ago - Created: February 9th, 2012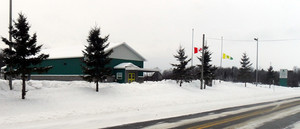 The Horton Community Centre, at 1005 Castleford Road, is now completed and available for bookings. This facility is air conditioned, fully licensed and has a seating capacity for 200.
For rental rates and availability, please contact the Community Liaison Officer at 613-433-3303 or select Recreation Forms for the Hall Rental Package and Rates.
Available to rent for weddings, stag & does, birthdays, sporting activities, and much more. The Community Centre has tables and seating for up to 200 people, a stage, kitchen and bar.
Horton Outdoor Arena
Updated: 2 months ago - Created: February 9th, 2012
1005 Castleford Road
Horton's NHL-sized outdoor arena has lighting for evening activities, and a roof to protect from weather. With four dressing rooms the facility is ideal for team games and practices. The arena is available for rental through the Recreation Department.
Millenium Trail
Updated: 8 years ago - Created: February 9th, 2012
The Millenium Trail is an excellent recreational trail for skiing, snowmobiling, biking, walking and hiking. The trail is located in the south-east portion of Horton (RR#1) from the Horton border east of Barnett Blvd. in Renfew to the eastern border between Horton and McNab-Braeside Township.
Boat Launch
Updated: 8 months ago - Created: February 9th, 2012
The Horton Boat-Launch is located off River Road where the Bonnechere River flows into the Ottawa River.
Passes may be purchased in advance at the Township Office Monday - Friday 8:30 am to 4:00pm
All passes need to be visibly displayed on the dashboard of your vehicle.